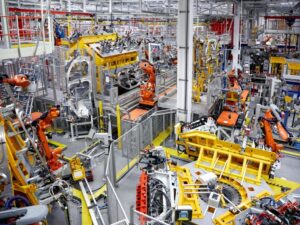 High angle view of robot arms in a car factory. Interior of automobile industry. Car production.
The automotive industry is a significant contributor to the UK economy, generating an annual turnover of £77.5 billion and employing some 814,000 people. 2017 saw the first decline in car production in the UK for eight years; however, overall the industry remains strong, with output still the second highest in 17 years. The industry represents 13 per cent of the UK's total exported goods. In 2017, almost 80 per cent of total production was exported to more than 160 markets worldwide, with over half of exports to the EU, followed by the US (14.5 per cent) and China (6.5 per cent).
In terms of consumer behaviour, registrations are running at a historically high level. In 2017, over half of registrations were fleet registrations. With an increasing focus on car emissions affecting air quality, the demand for eco-friendly cars, particularly electric and hybrid vehicles, is ever increasing and as such, alternative fuel vehicle registrations grew. Registrations of petrol vehicles also rose as the significant decline in demand for new diesel cars continues. Consumers are increasingly looking to online marketplaces to provide vehicle information and competitive deals and in 2017 more than 8.1 million used cars were sold in the UK. While this figure is down on 2016, it is still the second highest in history and suggests the market for used cars remains buoyant.
The decision by the UK to leave the European Union, also known as 'Brexit', has led to a great deal of uncertainty for the future of the UK's automotive industry. While the fall in the value of the pound has made British automotive exports more attractive, this benefit is negated by the high level of imports required from continental Europe (for example, around 60 per cent of parts used in British-built cars are imported from continental Europe)